3/2/2023
SOUTH AUSTRALIAN PRODUCE MARKET AND STATE GOVERNMENT TO PULL ON BOOTS FOR CHARITY SA FLOOD RECOVERY MATCH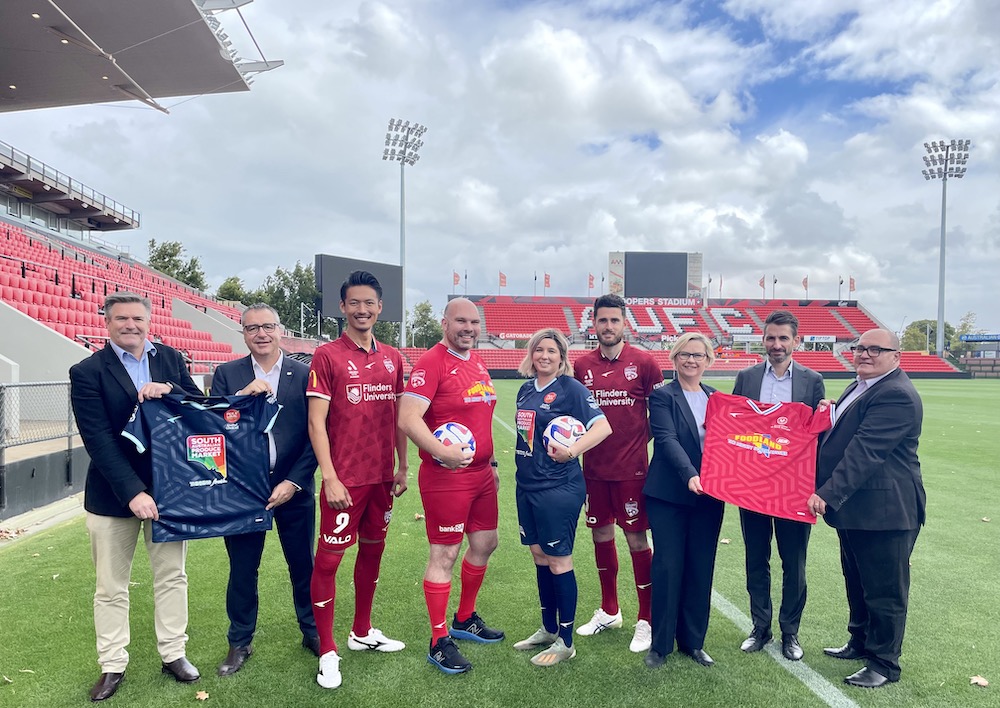 The South Australian Produce Market (SAPML), Pick a Local, Pick SA! and Foodland, together with Bank SA, the State Government, including Department of Primary Industries and Regions South Australia, have rallied together for the inaugural charity match where all funds raised will be collected by the Rural Business Support Relief Fund.  The match is expected to raise up to $100k.
The two teams 'Pick A Local, Pick SA!' V 'State Government' will take to the hallowed grounds of Coopers Stadium as a curtain raiser for Adelaide United as they take on Western Sydney Wanderers on Sunday, 19 February 2023. Fans are urged to come to the curtain raiser to support the cause.
The match will see SAPML Chief Executive Officer, Angelo Demasi, put his boots on with a mixed team of growers, wholesalers and retailers who will play against a team of SA Ministers and parliamentarians from all sides of politics and government representatives.
"As an industry we wanted to show our support to Primary Producers affected by and facing hardship due to the natural disasters our State has and continues to encounter." SAPM Chief Executive Officer, Angelo Demasi, said. "South Australian growers have been resilient and continue to provide the State with quality fresh fruit and vegetables and primary produce and we wanted to show our support and appreciation in these challenging times."
Each player will be supported through donations to take to the pitch as part of the team, attendees of the match can add a donation to the RBS Relief Fund when purchasing their game day tickets through Ticketek .
In addition, Foodland will donate part proceeds from the Peculiar Picks range, available across all Foodland stores. The range includes fruit sourced from both the Riverland and the Adelaide Hills.
Foodland Chief Executive Officer, Franklin Dos Santos, said "Foodland shelves are filled with quality fresh SA grown produce every day. As our way of giving back to our State's growers, part proceeds from our Peculiar Picks range of special market produce will be donated through Foodland's Good 4 Locals Foundation between the months of February to April. Our Peculiar Picks range can be found across all Foodland stores. We're also delighted to support the charity match with members of our team pulling on the boots and shin pads to play."
Rural Business Support Chief Executive Officer, Brett Smith, said "Rural Business Support has been chosen as the charity partner to provide household relief to farming families because of our intimate knowledge of the regional communities affected by the floods and the individual families that are in most immediate need."
"Our financial counsellors are already working with farmers along the Murray to help them to understand the potential short- and long-term impacts of this event for them and their families."
"Recovery from these floods will take months and in some cases years. Money raised through the SA Flood Recovery match will be used by our Relief Fund to assist farming families who are already doing it tough and have been impacted by a natural disaster – like the River Murray Flood – to meet their everyday needs, such as putting food on their own tables, while they recover from the event."
Adelaide United Chief Executive Officer, Nathan Kosmina, said: "Adelaide United are proud to be supporting this cause and helping to provide a platform for further fundraising, which is essential."
"In times of crisis it is paramount that considerable efforts are made to support those affected, and this initiative will ensure the communities still navigating their way through recovery are helped and not forgotten."
South Australian primary producers have battled with fruit fly, floods, hailstorms and unseasonal cool weather in recent years that has all affected production.  The Department of Primary Industries and Regions South Australia's Minister Clare Scriven was delighted to accept the challenge of the match for such a worthy cause and to rally members of State Government to get involved.
"What a wonderful cause to come together and raise money for our hard working and incredibly resilient primary producers" Minister Clare Scriven said.
"The Murraylands and Riverland is home to over 60% of the State's wine grape production and is the largest producer, by volume, in Australia. These important regions also produce over 90% of the State's citrus and almonds."
The two teams will play a pre match curtain raiser game at Coopers Stadium on Sunday 19th February 2023 with kick off at 12:30pm. Tickets to attend the match are available at Ticketek.
MEDIA ENQUIRES:
Penny Reidy, Marketing Manager SAPML M-0408877797,
Marius Zanin, Head of Marketing and Communications AUFC M-0412 693 975